Welcome
Ysgol Morfa Nefyn School Council. Click here to read more about their responsibilities and work.

Children

Ysgol Morfa Nefyn is a school for infants and children up to Year 3 (ages 3 - 8). We hope that the children will spend the first years of their education in a happy and homely environment, developing educationally and socially.


Parents

Thank you for taking the time to discover and learn about our school. We hope that this website will help give you a taste of the school and the opportunities we provide for your child.



Link for Parents


Follow the Facebook page 'education begins at home' for information on how to support your child at home and help improve their performance in school. Click here to see their recent advertisement.


Photos

Click here to see various photos of our fun activities




Attendance

Your child's attendance is very important to assure development in their learning.

Our target is 96% attendance. We praise and award good attendance at the end of every term. Have a look at out attendance tree in the school corridor to see your child's success. Here is a photo of two pupils who attended school EVERY day during the 2015-16 academic year . Well done!
News

Raising money for dementia
£194.10 was raised towards dementia in the Thanksgiving collection ... More

Shwmai, Su'mae day
The school council greeted parents and children in Welsh at the gate this morning to celebrate Shwmai, Su'mae day ... More

Rhys and Meinir
Year 2 and 3 visited Nantgwrtheyrn yesterday as part of their classroom theme ... More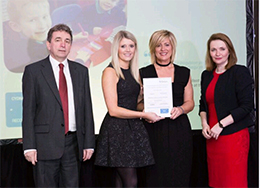 A night to celebrate and acknowledge Excellence.

In March 2017, Estyn held an event in Cardiff to recognise excellence in education and
training in Wales, in particular the work of providers who received an overall inspection judgement of 'excellent' in the academic year 2015-2016. The head teacher Nia Wyn Williams and teacher Nia Ferris were invited to receive a special award from Meilyr Rowlands, Her Majesty's Chief Inspector of Education and Training in Wales, and Kirsty Williams, AM, Cabinet Secretary for Education in the Welsh Government. The children, staff, parents and governors of the school are all delighted with the school's achievement.
Noticeboard
Ysgol Morfa supports the Gwynedd Welsh language charter. Click here to see the activities.
Noticeboard
OFSTED
Here is a link to the school's recent OFSTED report. The school was inspected by OFSTED in September 2015:
http://www.estyn.llyw.cymru/sites/default/files/documents/Ysgol%20Morfa%20Nefyn.pdf
QR code
The school uses QR codes to share videos of the children's oracy work and activities in their workbook and on classroom displays. Remember to download the QR reader app on your mobile phone so that you can watch the videos during visits.
Letters for Parents
Clubs
Cylch Meithrin Morfa Nefyn

The School and the Cylch Meithrin has a close and effective contact to ensure that every child is transferred confidently when three years old, developing a range of skills early in their education. The Cylch Meithrin is held at the Ganolfan in Morfa Nefyn from Monday to Thursday between 9:00am and 11:30am. The sessions are for children between two and a half years old and four years old. Click here for more information from the Cylch's leader.
National Reading and Numeracy

Information about the reading and numeracy tests: Click here for a guide to provide information explaining what the tests involve and how the results will be reported.
The National Reading and Numeracy Test reports.
Click on the link to watch an animation talk for parents through the National Reading and Numeracy Test reports.